Premium Farm Meat Bundle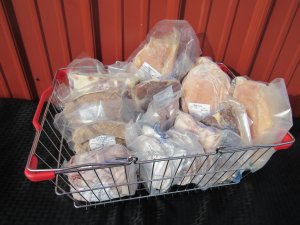 Look no further for the top side of the cuts! This top notch bundle includes:

2 pkg. of Pork Country Ribs (3 ribs per pkg)
1 Cut, Trimmed Beef Brisket (2-3 lbs.) (CHOICE OF: Grassfed or GrainFinished)
4 Sirloin Steaks
2 pkgs. of Chicken Breasts (2 per pkg.)
2 pkgs. Ground Beef Patties (4 Patties ¼ lb. each) (CHOICE OF: Grassfed or GrainFinished)
2 pkgs. of Large Link Sausages (CHOICE OF: Any 2 packages of large links natural sausages: Polish, Brats, Sweet Italian, Mild Italian, Hot Italian, Hot Pork, Cajun—4 links/pkg.)
1 Whole Chicken (3+ lbs.)


A bundle of the premium cuts of meat for $198. But wait....

Current 25% Off Sale Applied -$49.50

Bundle Sale Price $148.50



(While Supplies Last, Minimal Substitutions when Necessary)

Enjoy the top cuts!