"Beef it Up" Beef Bundle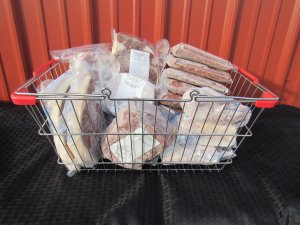 A nice bundle of steaks, roasts, ground beef, and other beef cuts from our Pastured Beef! You choose our which beef: our 100% Grassfed Beef, our non-gmo Grain-Finished Beef, or a variety of both. Feed your family for a while on good meat at an affordable price.

The Beef Bundle includes:
3 Sirloin Steaks
1 Bone-In Chuck Roasts (3 lbs.)
1 Beef Roast (Sirloin Tip, Inside Round, Rump or Chuck) (2-3 lbs.)
2 pkgs. Ground Beef Patties (4 Patties ¼ lb. each per pkg.)
8 lbs. of Ground Beef (1 lb. pkgs.)
3 pkgs of Short Ribs (2-3 ribs/pkg.)


A bunch of beef for $198. But wait....

Current 25% Sale Applied -$49.50

Bundle Sale Price $148.50



(While Supplies Last, Minimal Substitutions when Necessary)

Eat Healthy & Eat Delicious!