How it Works
There is no minimum order size. Most items you choose will be priced by weight, so you won't know the exact weight or price until we make up your order.  Our shopping cart system puts in an approximate weight.  In most cases, the final total price will be close to the shopping cart total price. When we complete your order, the final confirmation email will have the exact pricing.  A copy of that invoice will remain available to you in your login account.
When you complete your order, you will see a confirmation message.  If you do not see that confirmation, then your order has not been received.  You will also receive a confirmation email.  If you don't get it, be sure to check your spam folder.  It should be there somewhere.
Shipping, Pickup & Delivery Options
You can visit out farm store during store hours, or you can order online using the menu at left. When you order online, you can choose to:
Have your order shipped to you.
Pick up your order at our farm.
Meet us on specified drop dates for neighborhood dropoff.
Have your order delivered straight to your door on specified drop dates, depending on your location.
Shipping
Order online any time for your order to be shipped by UPS to you. Once your order is placed, we will pull it together and give you a specific meat total (as totals on line are approximate package weights), as well as a cost for the shipping fee.
We use thick insulated coolers and dry ice to keep your meats frozen.  We also use a business shipping service, which saves you money.  There are no minimum orders, however you save money on shipping when you order between 20 to 70 pounds of meat at a time.  Shipping to a business location also saves you money on shipping.  We try to keep shipping costs down by shipping freight.  One to Two days is ideal for freight shipping, depending on the weather, some 3 and 4 day regions may be fine.  If you are in the 5 day region and some of the 4 day regions, the package will have to be shipped via air, which will add to the costs of shipping.  We can give you an estimate for shipping costs on any order.  We typically ship our packages on Monday through Wednesday, depending on your location.  We want you to receive your package the same week that it is shipped.  Below is a UPS map of the typical number of days that it takes for your package to ship from our farm to you.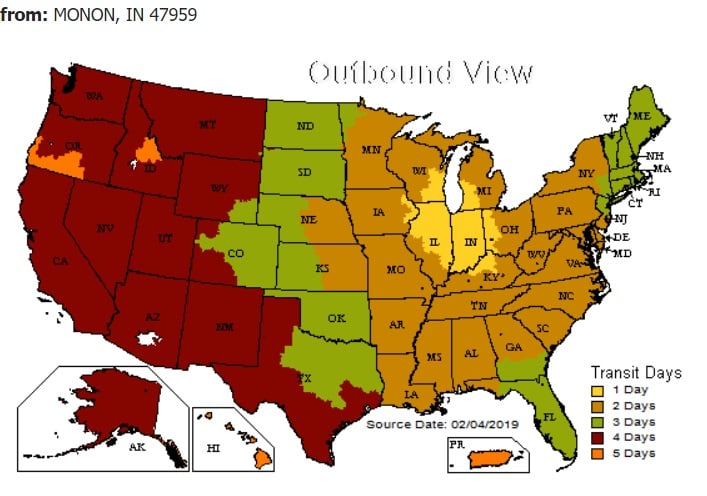 Farm Pickup
Order online any time for pickup at our farm (Monon).  We will contact you to arrange a pickup time that's convenient.  If you have something in mind, please feel free to let us know your thoughts in the comment section of the order form.
Neighborhood Dropoff
We deliver once a month to Lafayette, West Lafayette, Zionsville, Carmel, Whiting, & Valparaiso, Indiana. (Click any location for details.)
Each delivery neighborhood has its own schedule for online ordering and delivery.
Customers place their orders during the "ordering window" dates for their delivery location. 
After the ordering window closes, we assemble those orders and deliver them according to the schedule. 
Customers meet us at the delivery location during the "pickup window" to pick up their orders.
For neighborhoods where we offer home delivery, customers living or working within the delivery area can opt to have their orders delivered to their doorstep for a small added fee.
It's very important that customers arrive during the scheduled time. We typically have a tight schedule. We can't wait, or be late leaving because of a customer who arrives at the last minute.  Please to be sure to bring your own cooler/boxes/bags as needed to carry away your food products. 
Home Delivery
We offer home delivery for customers who live near our neighborhood drop off areas: Lafayette, West Lafayette, Zionsville, Carmel, Whiting, & Valparaiso. The ordering window dates and delivery dates are the same as for the nighborhood delivery.  Contact us to see if your home is in our range: 219-253-8491 or joanne@holycowfarmfresh.com.
If you place an order for home delivery and your location outside our delivery range, we'll contact you to see if you want to cancel the order or choose the neighborhood pickup option.
If you choose home delivery, you must leave a cooler in the outside location you specified on your order.  Pick a location where it will be safe and out of the sun.  We'll put your order into that cooler.  It's also great to save some bubble wrap from packages you receive and keep it in the cooler.  We'll use anything you leave in the cooler to further wrap your products.  Wrapped frozen products in a cooler in the shade stay frozen nicely.
(We reserve the right to refuse any home delivery orders which we deem to be outside our delivery zone.  We'll do the best we can, but we really do need to keep our home delivery customers clustered.)
Cancellations
If you must cancel an order, please call us ASAP:  219-253-8491
Fees
You will notice that our shopping cart shows a modest assembly cost for each item.  This charge is necessary to cover our costs for assembling and getting your orders to the neighborhood delivery location. The added home delivery fee covers the time and gas involved in driving to each and every home or workplace.
Privacy & Security
The information you provide to us when ordering is totally private.  We don't share it with anyone.  If you order by credit card, we never see or store your credit card information.  It is ported directly to our secure credit card processor.  When your order is finalized, your credit card information is deleted.
Spread the word!
Please tell others in your neighborhood about our service. The more customers there are in your area, the easier it is for us to keep your delivery costs low. Anyone you know can order as long as they live in the delivery area or can meet us at that the delivery location and time.  We rely on word of mouth advertising to expand our business!  Thank you!
---
Holy Cow Farm Fresh
Grass-fed Beef ・ Pastured Poultry  ・ Natural Pork
10498 N US 421 ・ Monon, IN ・ 219-253-8491
Visit our farm store or order online for delivery to Lafayette, West Lafayette, Zionsville, Carmel, Whiting, & Valparaiso, Indiana!