Holy Cow Farm Fresh
Grass-fed beef & more in Northern/Central Indiana
We're a small family farm raising natural, quality meat in Monon, Indiana.  
Our philosophy
is that healthy and happy animals produce the best quality of meat,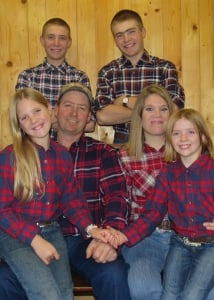 so our animals enjoy a low-stress, fresh air, healthy lifestyle. We offer:
100% Grass-fed beef
Pastured Grain-finished beef
Naturally raised pork
100% Grass-fed lamb
Bulk ordering (freezer beef/freezer pork)
Order online for farm pick up or possible delivery.
Farm Store 
10498 N US 421, Monon, IN  
Order Online
Order online using the links at left.  When your order is ready, you can pick up at the farm or if possible, we can arrange delivery to Lafayette, West Lafayette, Zionsville, Carmel, Whiting, & Valparaiso, Indiana. You can also read more about how online ordering works.
---
Farm News
Order Bulk Meats Now
Is your freezer full?  If not, it sure feels great when it is...
Order Grassfed Bulk Beef 1/4, 1/2, or Whole Now for beef available in Summer & Fall.
Order Grain-Finished Beef 1/4, 1/2, or Whole Now for beef available in Summer & Fall.
☛CLICK here for More Bulk Details

☛ CLICK here to Make a Deposit
Grassfed Budget Burger
Order Grassfed Budget Burger now, ready soon.  One pound packages of our mature grassfed ground beef available at our best prices, available in bundles of 25 lbs, 50 lbs, 100 lbs, 200 lbs, and 400 lbs.
 ☛ CLICK here to Order Budget Burger
Let's Stay in Touch!
Be sure to like us on Facebook and  Join Our Newsletter so we can let you know about events & specials! 
---
We Appreciate Your Business
We work hard to provide healthy, wholesome local farm products to our customers in Northern Indiana and Central Indiana. You won't find meat products like ours in your local supermarket.  Their meats are from an industrial farming system that abuses the environment, the animals, and ultimately, your health.  Our meats are raised in a way that's environmentally sustainable, truly humane, and naturally healthy. (Read more about our farm.)
Please order from us in the knowledge that you are doing the right thing for your family, your region, and our small business.  Let's build a better future together.
Enjoy our view!

---
Holy Cow Farm Fresh
Grass-fed Beef ・ Natural Pork  ・ Grain-Finished Beef
10498 N US 421 ・ Monon, IN ・ 219-253-8491
Shop Local, Know Your Farmer & Eat Well!  Holy Cow!  We're the Beef!